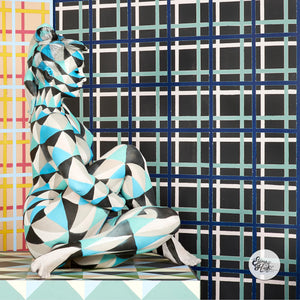 Auction Closed - GEOMETRIC 14
Regular price
$9,900.00 AUD
---
RESERVE $800 (70 x 70cm)

*****
7 weeks of CHRISTMAS 72hr silent AUCTIONS
This Auction concludes: Thursday 9th November 2023

*****
RESERVE PRICES ARE LISTED WITHIN THE DESCRIPTION OF EACH ARTWORK
All items listed below at valued price
*****
Make your silent bid by emailing Emma:  emma.hack@icloud.com
keep an eye on this page for new Auction releases every Monday and Friday in the lead up to Christmas
*****
GEOMETRIC  14
70x70cm
edition of 15
framed (frame may have some slight damage)

Value: $4500
*****
AUCTION TERMS:
This is a silent auction, winning bids will not be advertised.
One bid per person.
There is a reserve on each work, please see details on each artwork.
By bidding you are committing to purchasing within 24hrs of end of auction
Please note, some frames may need a refresh due to slight damage and a wipe over of inside of glass - sold as is.
If sold interstate or overseas, Emma can forward you details for her preferred courier
*****
GEOMETRIC Collection
GEOMETRIC creates a spatial difference between the muse and their backgrounds, creating poses that contort and evolve the human form and its surrounding space.
The structured geometrical backgrounds juxtaposed against the flowing curves of folded torsos, arms and legs create a structural interest to the eye, while still feeling 'at one' with their surrounds.
Inspired by the nudes of Herb Ritts, Helmut Newton and Patrick Demarchelier, these works mold the human form, questioning where limbs start and end.  Intrinsic flow between pattern and the muse match and merge, without planned consideration. 
A moment in time of fated perfection.
GEOMETRIC
[jee-uh-me-trik]
Of or relating to geometry or to the principles of geometry.
Resembling or employing the simple rectilinear or curvilinear lines or figures used in geometry.
Of or relating to painting, sculpture, or ornamentation of predominantly geometric characteristics.
(Often initial capital letter) Fine Arts.
Pertaining to or designating a style of vase painting developed in Greece between the 10th and 8th centuries b.c., characterized chiefly by rectilinear or curvilinear shapes in abstract and human figuration, often arranged in tiers or panels around the vase.
Designating a style of Greek sculpture of approximately the same period, exemplified chiefly in small figurines or reliefs having a schematic and generalized treatment of the human form.
Noun
A geometric pattern, design, etc.:
an ornate and handsome geometric.
---