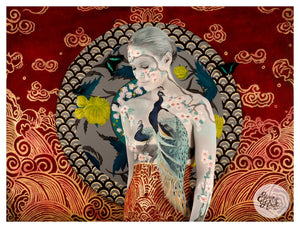 CHI III
Regular price
$12,200.00 AUD
---
CHI  III

Body art installation, butterflies, archival Photorag pigment print
61 x 43.3in - 1 edition    
57 x 40.5in - 3 editions 
49.2 x 35.43in - edition of 10
33.4 x 24.8in - 10 editions
Chinoiserie (pronounced [ʃinwazʁi], derived from the French word Chinois, meaning "Chinese") is the European interpretation and imitation of Chinese and East Asian artistic traditions, especially in the decorative arts, garden design, architecture, literature, theater, and musical performances.
In Chinese philosophy, yin and yang (also yin-yang or yin yang, 陰陽 yīnyáng "dark—bright") describe how seemingly opposite or contrary forces may actually be complementary, interconnected, and interdependent in the natural world, and how they may give rise to each other as they interrelate to one another.

'Yin' and 'Yang', Emma's newest works feature the delicate positioning of her muse as porcelain busts interacting within her painterly backgrounds, exploring the intriguing beauty of her oriental neighbours. Motifs and butterflies cluster together in a pattern collision of calmness and beauty that Emma is well-known for.
Pigment Print on Photo Rag Float-mounted in white box frame.
155 x 110cm – 1 edition
145 x 103cm – 3 editions
125 x 90cm – 10 editions
85 x 63cm – 10 editions
Pigment Print on Cotton mounted in white box frame.
25 x 25cm - 20 editions
EMMA HACK is an Australian artist working in the unique medium of body paint installation and photography. Exhibiting extensively throughout Australia since 1999, Emma's astounding artworks have since captured the attention of collectors and art lovers worldwide.
Emma has received great acclaim for her refined body paint camouflage technique; through a combination of painting on canvas, body painting and studio-based photography, her work evokes a rich array of visual narrative and magical realism.

Best known for her Wallpaper series (2005-2013)- in which she painstakingly camouflaged the human form by hand painting her models into the remarkable designs of the late Florence Broadhurst. Emma Hack's diverse artwork collections draw inspiration from the unique Australian flora and fauna, as well as Oriental influences and expanding to fine embroidered portraits.

Emma Hack's collaboration with Grammy award winning musician Gotye resulted in the iconic, award winning music video for Somebody That I Used to Know, which has been viewed by over a Billion people worldwide, raising her profile in the US, UK and Europe. Emma has since worked on major artistic commissions for luxury brands and the artistic community including her 'Madame Hanoi' portrait, currently the largest body art mural in the world, standing at 8m in height, gracing the walls of Celebrity Chef, Nic Watt's restaurant of the same name in Adelaide.

Emma Hack opened her own, flagship gallery and studio in North Adelaide, re-launching in the centre of Adelaide throughout 2018. Emma is represented by galleries throughout Australia, Singapore and London. Her work is held in numerous private and corporate collections globally.
enquiries@emmahackgallery.com
WhatsApp +61411460233
www.emmahackgallery.com

Large - 125x90cm 10 editions $7500
Small - 85x63cm 10 editions $5900
* add 8cm for framing to these sizes
---